- Mauro Pipani
Mauro Pipani (born 1953 in Cesenatico Italy) lives and works between Cesena and Verona. He graduated in 1976 at the Academy of Visual Arts in Bologna under the supervision of professors Pompilio Mandelli and Maurizio Bottarelli. He started off back in 1972 with a group of young artists called "la Comune" directed by the Nobel Prize Dario Fo. In 1975 he founded, at the Academy of Visual Arts, an artistic movement called di 'Via delle Bisce', in which the artists, despite their own different languages, were united in the intent of producing social engaged art. In the 1970s he collaborated with "Sul Porto", an art publication directed by Walter Valeri, Stefano Simoncelli and Ferruccio Benzoni. Pipani's works are characterized by a stratification of materials (gauze, fabric, papers, metal fragments, etc.) and languages such as painting and word, normally accessing his works. Landscapes in balance between interiority and exteriority, reality and memory, local and global. Between his solo and group shows: Eterea, SpazioLAvitT, Varese, 2017; Marittima, Banco Popolare Milano Marittima, 2016; Antropocene, Autunno Contemporaneo – Comune di Roma, Basilica di Santa Rita, Rome, 2016; Idee per una collezione, Palazzo della Cancelleria, Rome, 2016; Biennale di Salerno, 2016; Biennale del Disegno, Museo della città, Rimini, 2016; Nowhere landscape, Palazzo del Ridotto, Biblioteca Malatestiana, Cesena, 2015; Arborea, Villa Torlonia San Mauro Pascoli (FC) e Oratorio di San Rocco Gatteo (FC), 2015; Innesti disuguaglianze, Oratorio di San Rocco Gatteo, 2015; Eros & kronos, Palazzo del Ridotto, Cesena, 2015; Gli alberi sono anime, Galleria Comunale Santa Croce, Museo della Regina, Cattolica, 2015; Alterazioni Cromatiche, Magazzini del Sale, Comune di Cervia (RA), 2010; La Collana Bianca si Colora, Palazzo Lanfranchi, Matera, 2006; Eclettiche rappresentazioni, Rocca di Ravaldino, Forlì, 2001; Figure del 900/2 Oltre L'Accademia, Pinacoteca Nazionale di Bologna, 2001; Aria acqua terra fuoco, Magazzini del sale, Cervia, 1996; o.l.v.a. arte senza tempo, ex fabbrica Olva, Turin, 1996.
EXHIBITIONS
Artworks
Il mare senza riposo ("Petrolio" series)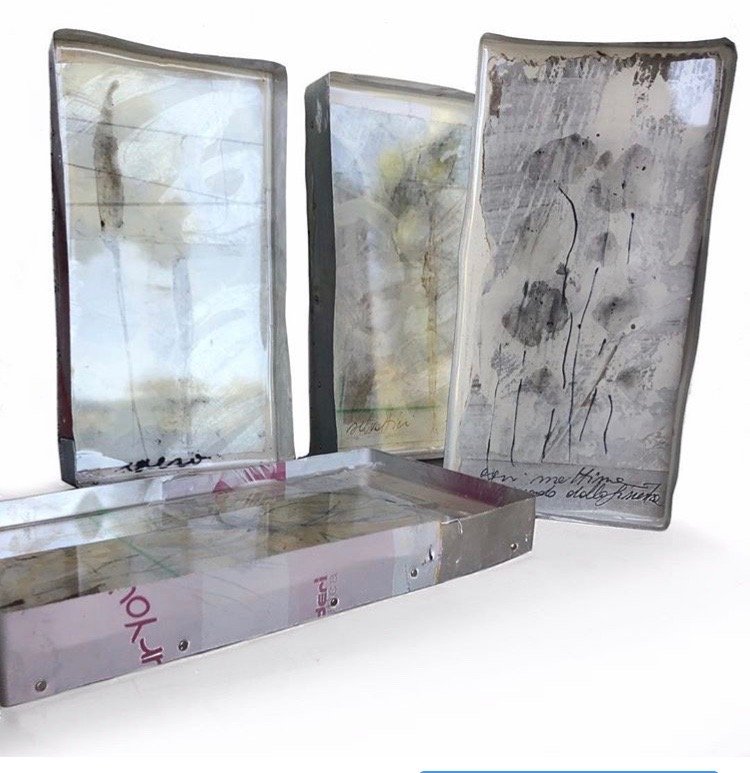 Cristalli corallini ("Latte liquide" series)
Poto una rosa abbandonata per ridare speranza alla sua ripresa / Pruning an abandoned rose, giving hope to its recovery - HOPE!
Nella logica della trasformazione delle cose l'aria oggi sembra un suono sospeso nello spazio / In the logic of transformation of the things, the air today seems like a sound suspended in the space - HOPE!
Un suono sospeso nello spazio / A sound suspended in the space - HOPE!
La sabbia della Camargue ("Le vele" series)
La linea estrema ("Marinerie" series)